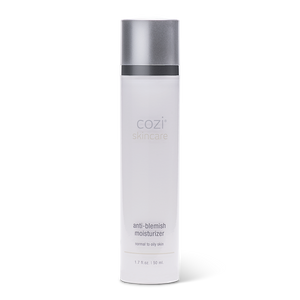 Anti-Blemish Moisturizer
Regular price $ 135.00 Sale
This targeted treatment provides the much-needed hydration of blemish prone skin while purifying skin of imperfections, blackheads, and post-blemish discolorations with the help of Echinacea Extract and Tea Tree Oil. Suitable for normal-to-oily skin, this daily use moisturizer calms and soothes eruptive skin. The synergistic blend of soothing chamomile, yucca, and arnica extracts helps reduce redness, itching, flaking, and dryness. This lightweight, oil-absorbing gel based crème maintains softness and all day hydration without the oily, greasy feeling often associated with moisturizers.
SKIN TYPE
Normal to Oily / Combination
HOW TO USE
After cleansing and toning, apply a small amount of anti-blemish moisturizer to face and neck. May be applied as a spot treatment for blemishes, ingrown hairs or discolorations.
RECOMMENDATIONS FOR ACNE-PRONE SKIN

Light texture, subtle scent, not sticky or greasy. Ideal for clients who prefer a lightweight texture or are not accustomed to the feel of a heavier moisturizer.
It is imperative to keep skin clean and to control excess secretion of oil. Cleanse twice daily to minimize breakouts.
Avoid picking at blemishes as this may increase the chance of scarring and discoloration.
Make sure to change pillow cases frequently; dirt and oil left on pillowcases can promote bacterial growth and exasperate breakouts.
Wash your hands before cleansing your face so that you are not transferring bacteria from the hands to the face.
Do not smother the skin with moisturizer, over moisturizing can lead to congested pores. A light application will help balance oil and water levels in skin.
SIZE: 1.7 oz | 50 ml