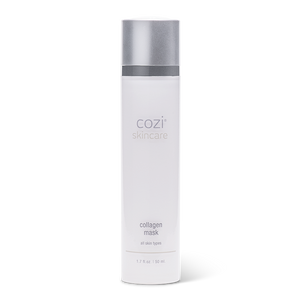 Collagen Mask
Regular price $ 165.00 Sale
This luxurious mask quenches skin dryness by providing deep levels of hydration and targeted moisture. Vitamins C and E work together to neutralize daily environmental skin damage, while acai berry, green, and white tea extracts soothe, nurture, heal, and restore. 
This nurturing treatment is ideal for dry skin showing signs of aging and photo-damage, as well as skin exhibiting redness and sensitivities related to stress, poor diet, lack of sleep, sun, and environmental exposure. 
If you are looking for a versatile treatment to help enhance and restore vibrancy, hydration, firmness, and radiance, collagen mask is the treatment for you. Can be used daily or weekly to boost any skincare regimen.
SKIN TYPE
All Skin Types / Sun Damaged / Sensitive and Environmentally Exposed/ Dehydrated
HOW TO USE
After cleansing, apply a thin layer over face and neck, and relax for fifteen minutes.
Rinse well with warm water and follow with toner and appropriate protective treatment for your skin type.
INGREDIENT BENEFITS
Jojoba Ooil is chemically similar to human sebum allowing it to readily and easily absorb into the skin without causing irritation. It helps balance skin's sebum production and is great for use on all skin types, leaving skin looking healthy and nourished.
Plant based collagen helps fill the extracellular space between skin cells, supplementing any deficiencies of collagen in tissues thereby slowing the aging process.
Green, red and white teas make this an excellent product to help neutralize the damage caused by UV exposure to help fight against visible signs of aging.
Excellent as part of a weekly skincare regimen for all skin types to hydrate, nourish, protect and balance the skin.
SIZE: 1.7 oz | 50ml