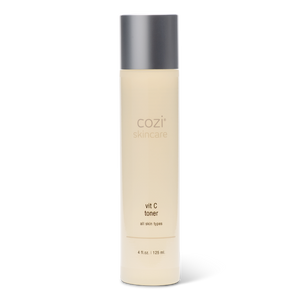 vit C Toner
Regular price $ 40.00 Sale
Restore your skin's natural pH balance with this targeted toner. A balanced pH is important for skin health, and without it, other products don't work the same. Our refreshing Vitamin C tonic removes skin's impurities and offers a balanced and vibrant complexion. With natural, nutrient-rich ingredients like grape skin, carrot root and organic seaweed, your skin will be left feeling refreshed and ready for the next
skincare step.
SKIN TYPE
Ideal for all skin types. 
HOW TO USE
After cleansing, apply the Vitamin C toner with to the palms of your hands and gently press onto the face. Allow 1 minute for the toner to absorb and follow-up with appropriate treatment for your skin type.

INGREDIENT BENEFITS
Orange Oil encourages moisture retention.
Jasmine Oil and Cucumber Extract provide soothing and healing properties for protection of daily free radicals.

Contains no artificial fragrances and is paraben-free and vegan-certified.
SIZE: 4 fl oz | 120 ml